Have you always wanted to visit India? Then you dropped the idea due to many stories about roadside food, getting sick, mosquitoes, sanity, safety and so much more. However every time someone comes back from India or you meet an Indian – your desire to visit India emerges again. Sound familiar.
Now let me show you the other side of the coin. Myself born in Amritsar – Punjab is also known as The Golden City because of The Golden Temple and its rich history & culture. I was raised in Mumbai formerly known as Bombay, India's largest city and famously known as the hub and heart of Bollywood. After graduation and college, I moved to Honk-Kong for further studies and then to London with the current destination as New York City. As a curious child and being, I wanted to have a profession which allows me to travel, know and understand the vast & vibrant cultures and get to understand them well – for me, this is an education and experience one cannot have through books. However, the more I traveled and experienced different cultures, the more interest people showed in my culture and in my country – India.
So after planning many trips for my friends and family, and taking them along with me to India on my annual trips – I decided to pen down how I travel –
Incredible India – Desi Style!!
First of all, please understand that India is a vast country from Himalayas peaks to Indian Ocean coastline so one cannot travel and see all of it in one round but one can definitely see the highlighted cities and get to enjoy its rich heritage and culture. Some history to be aware of – India and Pakistan were separated since 1947 and India was then under the British Empire.
The rivalry between India and Pakistan is well known and necessary to keep in mind as Islam is the second highest religion in India after Hinduism. And remember Indians are very emotional and passionate about 3 things – Religion, Cricket, and of course Bollywood – this can be easily a make and break between crowds.
Being born in Amritsar – Punjab, I am personally attached to this state with many childhood memories – going early morning and doing seva – providing services like shoe collection, helping in community kitchen or simply cleaning the floor to savoring chats and buttermilk with multiple scoops of butter, having unlimited kulcha's (Indian bread with lots of ghee (Indian butter) and fillings), enjoying all prominent weather from extreme cold (November – March) to extremely hot (April – June) and the monsoon weather in between. There is a popular saying that you cannot get the similar taste of food as one gets in Amritsar. So I would recommend starting the journey from Amritsar. You can have a direct flight and plan for not more 2 days. Hotels are fairly cheap and the accommodation is available from affordable to fairly luxurious. I personally stay with my family, however, I have also stayed at Hyatt Regency Amritsar and absolutely loved the hotel. It is quite far from Golden Temple, however you can choose from many available accommodations near Golden Temple – I recommend booking them in advance as it gets sold out and expensive as Golden Temple is one of the most visited places in India. Temple gets 100,00 visitors per day with the number fairly high on weekends and special occasions. My last visit was in 2014 with my Italian friend who was all geared up to see India – Desi Style.
We took our flight from London to Amritsar Via Delhi and you cannot miss the excitement on our faces.
The very first day I recommend to visit Sri Harmander Saheb – famously known as The Golden Temple. Early morning visits are the best as the queues are thinner, it's peaceful and you can enjoy the beauty and the serenity of the place. The devotees start to prep from 2:30 am and the first ardas (prayer) is between 05:00 – 05:30 am and for me is the most peaceful time within the Golden Temple. The light air, the chanting of prayers and the energy makes your spiritually stronger and provides inner peace. There is also a very strong belief that if you ask for anything at the temple with a clear mind, heart and conscious – Waheguru will grant you the wish. However, as a traveler you will not regret this 4:00 am wake up call to adore the beauty and peace.
Golden temple is also famous for its community kitchen. Each day they make and serve 100,000 people with meals serving 3 times a day. Sikhism religion welcomes everyone and serves everybody who comes from any background, color or race. You can also choose to be a helping hand in this community kitchen and this is considered a seva – as mentioned above as one of my favorite childhood memories. One cannot go to Amritsar and not savor the Karah Parshad (made of flour, semolina, sugar and clarified butter) offered free to everyone. Golden Temple also provides free shelter to anyone in need.
Sikhs believe in humanity and equality and that it does not matter which color, background, race, religion, financial state or cast you come from – you are more than welcome to come to Golden Temple from any of its 4 doors which are open 24 hours a day and yet you will not find a more safe and peaceful place then Golden Temple. Devotees and Believers are not chosen but are volunteered here at Golden Temple and don't forget to chant:
Waheguru Ji da Khalsa – Waheguru Ji di Fateh
As you must have thought it is known as Golden Temple due to the entire top of the temple build with real gold. The temple is stand on the man made lake which has some exotic fishes. They are very visible and people often take bath in this holy water.
A must on the list – Golden Temple.
After Golden Temple, within walking distance is Jallianwala Bagh – 7-acre public park. It is also famous for the massacre that happened in 1919 when British Troops openly gun fired on the Sikh civilians gathered to celebrate Baisakhi – a Sikh festival. You can still see the tears flowing down when people visit this place. 350+ people died in this massacre and many injured.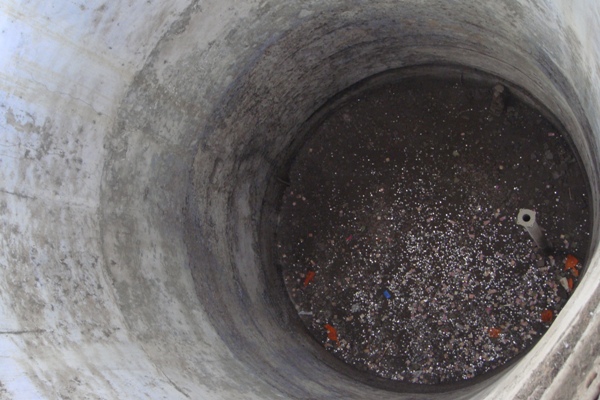 Once you are done with the above, I suggest you call it a day and savor another reason Amritsar – Punjab is famous for – Food. A must visit place on the list was Kesar Ka Dhaba
I personally stop counting my calories or any diet plans when I head to Amritsar especially when to this restaurant. They have been in service since 1916 and till today has queues waiting to get in. The decor is very simple and so is the ambiance, you can inhale the fragrance & aroma of butter & food  being cooked over a distance, you just cant resist.
The menu is basic, simple with their signature dishes. We savored for dinner here and its a must on everyone dishes – you will not be sorry for the additional calories here as your brain will be too busy cherishing the taste of these dishes.
Phirni – Made of ground rice and milk is traditionally served cold in small earthen pots known as Shikoras.
Fact is that Kesar Ka Dhaba was actually in Pakistan and was moved to Amritsar after the partition between India & Pakistan. Well, known dignities such as Pandit Jawaharlal Nehru and have parcels going to Gandhi household.
The second day in Amritsar – I suggest getting up and walking to some of the textile and fabric markets – famous ones are Shastri Market, Hall Bazaar, and Katra Bazaar. Few famous things to definitely keep an eye on are Patiala Salwar, Jootis, handcrafts like phulkari and weaponry showcasing swords and daggers called Krippans. Amritsar is known for the fine quality of wool and definitely a place to buy Jutti's & Pashmina from here – great quality and great prices.
You can get Jutti's – Indian footwear famous in northern parts of India ,these footwear can be found either simple and classic or with real gold/silver threads inspired by our rich heritage dated 400 years ago.
I know for a fact as my dad still owns a business in Shastri Market. If you love colorful and rich fabrics, authentic Pashminas – you are in the right place.
P.S: Learn to bargain well.
We kept our Breakfast light, after such a heavy dinner and going for a heavy lunch ahead. Yes, you eat 3 times a day when in Punjab. For transportation, instead of a car –  we hired a Rickshaw which is a lot of fun as all these drivers think they are in some kind of race and consider the roads as a race track. Not to miss, the expression on my friend's face was too hilarious to miss.
If you are in Amritsar or any part of Punjab – you will hear the word Lassi very often and possibly first thing in the morning/lunch.
Thick yogurt based Lassi is churned with sugar, ice cubes, cardamon powder, saffron strands soaked in milk along with crushed malai pedas (Indian sweet desserts made of milk, khoa (made of dried whole milk made by thickening in an open pan along with saffron, pistachios, and cardamon). 99% of the time, along with all of these ingredients they will add Malai (Malai is a cooking ingredient from the Indian subcontinent. It is made by heating non-homogenized whole milk to about 80 °C (180 °F) for about one hour and then allowing to cool. A thick yellowish layer of fat and coagulated proteins forms on the surface, which is skimmed off) and butter on top. One glass of this thick and rich glass of Lassi and you will be skipping the next 2 meals.
Beware: Lassi does make you feel sleepy or give you a sugar rush, however your body responds to this, your taste buds will surely be delighted and senses heightened.
We definitely took down some at Lunch.
And finally the lunch with a cube of butter on each flatbread. And i was told that it is not enough – Lord bless our hearts at least as the waist was already crucified.
Best places for Lassi in Amritsar are Ahuja Lassi and Gian Chand Milk Bhandar. For Kulcha's – preety much all places are amazing, try to stick to the old,common places instead of fancy restaurants. Amritsar is not known for fancy restaurants but for Dhabas and the real taste is through these old authentic corners.
If you have sweet tooth, you must also try Jalebi, Gulab Jamun and Rabdi at my favorite corner – Gurdas Ram Jalebi Wala which is 10 min away from the Golden Temple.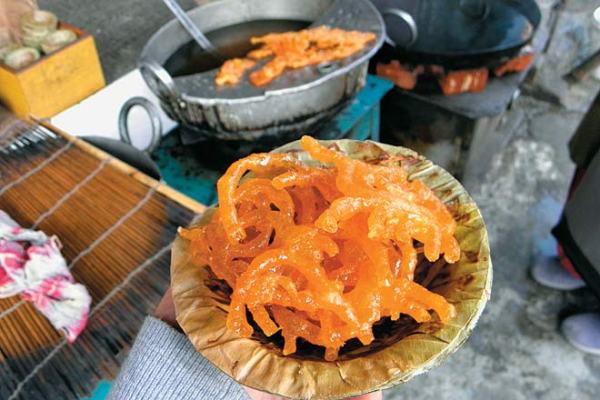 A must try corner would be Makhan Fish and Chicken restaurant for the world famous Amritsar Fish – it is finger licking good. And of course one plate is not good enough.
Now after drooling over all this food lets head for some action. As I mentioned earlier in my post, not only we share our history with Pakistan, we also share our borders known as Wagha Border. Wagha border is extensively known for its ceremony between the soldiers two hours before sunset every day. The ceremony is conducted by Pakistan Rangers & Indian Border Security Force (BSF).
The scene is set – sunset at the backdrop, rich history on both sides of the border, emotions on high on both sides, everyone chanting that their country rocks and the energy gets into your skin. So sit back while Jawans march towards each other, the border gates open, the flags are lowered and folded respectively and it ends with the handshake. I don't know about others, but I  had a lot of fun.
One thing to notice – when these Jawans march – its incredible how high this gets. Don't believe me – watch!
Of course, we could not resist taking a picture with these Jawans.
One Tip: Try to leave after the crowd or before as its gets a little out of control, also understand that the parking is quite far from the viewer's point due to security.
We stayed an additional day and I took a hike trip to Vaishni Devi Temple.
One of the most well-known temple situated within the Jammu & Kashmir state, located in Katra at Trikuta Mountains. The temple is dedicated to the 3 Goddess – Mahakali, MahaSaraswati & Mahalakshmi. You would have to take a bus ride from Amritsar to Katra which is 250-300kms by road and takes about 6-8 hours by road. You can take a flight, but I personally enjoy the road trips as the views are breath-taking.
Once you reach Katra, the shrine is situated at 5,200 ft above sea level. The shrine is situated within a cave in the Trikuta Mountain and takes a trek of 12kms. You can walk, or take a horse ride. I suggest walking as it's a photographers paradise. You can also get a helicopter ride from and to Katra to Sanjichat (2kms from the shrine) and return for people who are unable to trek.
I enjoyed the trek up to the shrine, however on the way down I was excited to see the Helipad so I can get down to the base as soon as possible. You must be wondering why-Reason is sanitation. Unfortunately there are no clean toilets to and from and it was quite difficult to stress my bladder or intestines anymore. I would suggest the journey on liquid diet.
Everyone knows my love for mountains, trekking and sunsets. Well this was the perfect reason to stay motivated. This sunset was something else though and kept me mesmerized.
Beware of the monkeys on the way up to the shrine and back to the base. They are quite aggressive, but funny if you maintain your space. You can feed them and they will get quite friendly.
I am sorry that I was unable to add any pictures of the Holy Shrine – for that you have to hike up and be dedicated. Also taking pictures of this holy shrine is prohibited and as a strong believer and a good citizen I did not wish to break / amend the rules. We queued up from 04:00 am after having tea and biscuits and had some really peaceful sight of the shrine. Once again the peace and the feeling of being spiritually connected is beyond words to express or showcase through a photograph taken through a man made machine. Some experiences specially spiritual ones should be sensed, felt and immersed and we were glad that we were the chosen one. As there is a saying that only when "Ma" wishes, you will be able to take the trek to the shrine and we are glad we were lucky enough.
I was taught by the locals on how to balance the luggage on your head and walk. I think I am OK with my luggage on my shoulder.
Well, as you can see our 3 day journey was full of activities, loads of fun, a lot of finger licking food and great experiences – we hope this article will help you to make some right choices when planing or visiting Amritsar.
For now we say bye, stay tuned for the next city in India and this one is the Capital of India, Delhi – Our Next Stop.